FREE Full Colour Comprehensive Catalogue
"I have just received your catalogue, for which, thank you. I just wanted to say that I am absolutely overwhelmed by the number, range, and quality of the recordings you offer." – Dr L.P., UK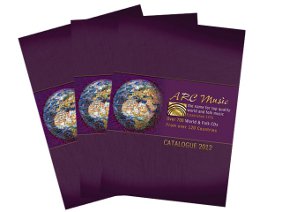 As leaders in traditional world and folk music since 1976, ARC Music has amassed a huge catalogue of ethnic music covering the entire globe.
With well over 700 albums covering over 120 countries, the ARC Music catalogue is the only guide you will need in order to learn about, discover and enhance your knowledge of our planet's folk music.
This is 84 full colour pages of the best in world, folk and ethnic music. All recordings are of the highest quality and most feature information on the music, culture or country, the songs and the artists (in 4 languages: English, German, French and Spanish).
"Those familiar with some of the staggering array of world music produced by ARC Music, the oldest such label… will be aware that they not only introduce the listener to fine traditional music but also to tradition as a template for the production of music that is new and creatively substantial. By eschewing the ephemerally trendy in order to feature such highly talented artists… they ensure that the tradition will never die." – Diaspora Worldbeat, Australia
"ARC Music… seem to have access to a bottomless wealth of folk and roots music from every corner of the world…"
– Songlines Magazine, UK