Music for Film & TV
Our music is always available for use in Film, TV, etc. With over 700 albums of music from all over the world. We can provide a very wide array of different genres perfect for specific use in adverts, documentaries, movies, etc.

Just choose the music you need from our catalogue covering every corner of the globe!
We have everything from authentic Didgeridoo to the sound of the Pacific and traditional folk from nearly every country and culture. Whatever ethnic music you need as a background drop for your T.V. production, movie, commercial, CD-Rom or other usage you will find what you need in terms of world & ethnic from the ARC library in nearly every case.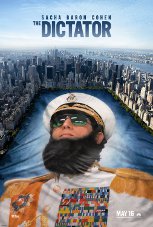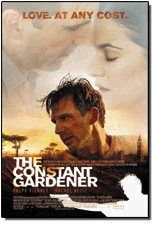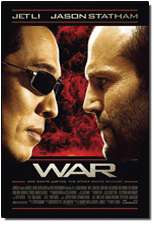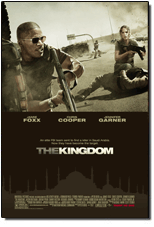 Our music has featured in the following Feature Films:
TV placements include:
Royal Pains
New Girl
Sons of Anarchy
True Blood
Hawaii Five-O
Outsourced
Flash Forward
NCIS
Criminal Minds
Without a Trace
Law and Order
Veronika Mars
Spooks
In Plain Sight
Touch
TV Commercials include:
GoDaddy – 'Otter', 'Berries' and 'Bubble Bath'
HSBC "Family"
Nike
Budweiser
McDonalds
Mars - Galaxy 'mistletoe Kisses'
Games:
Counter-Strike
Disney Appmates
Civilization V
Ivory Tiles (on iPhone platform)
The Secret World
Previous clients include:
NBC
Sony Pictures Entertainment
Universal Pictures
MTV
BBC
Channel 4
ITN
ABC News
If you have a TV, film, video, internet production, etc. for which you may be interested in licensing our music then please contact: Caren Entwistle on (0044)1342 328567 or email caren@arcmusic.co.uk
FAQs:
Do you represent all rights, master and publishing, for all your music in your catalogue?
We generally either own or control the licensing rights to all our recordings. We also control the publishing for many songs too. We will advise you of third party clearance if needed or suggest an alternative.
How can I search/listen to your music to find the right track(s)?
You can search our website by genre, artist name or CD name and click on the CD cover which will lead you to a page with more detail about that particular CD and it gives you short clips to listen to. Alternatively, you can contact Caren Entwistle caren@arcmusic.co.uk with your music request and she will try her upmost to help you find the music required.
How do I get in contact with you to clear the rights?
You can get in contact with Caren Entwistle via e-mail caren@arcmusic.co.uk to whom you can send a description of your project, what music you would like to use (if already chosen) and what rights you require.
How much does a license cost?
As every project is different, the price depends on various factors such as:
Which song you would like to use
Whether you use the whole song or a clip
Who the artist is
What rights you require
The duration of the license
How many tracks you would like to use as we give discounts if several tracks are being licensed
Movie Tracks Sampler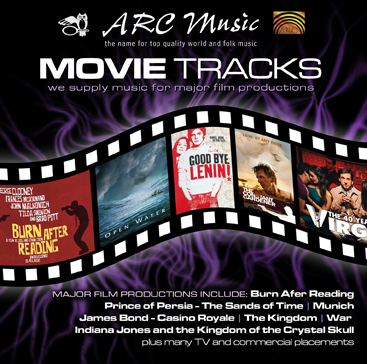 Film posters on cover: courtesy of Lionsgate (Open Water), Focus Features (The Constant Gardener, Burn After Reading), X-Filme Creative Pool GmbH (Good Bye, Lenin!), Universal Studios Licensing LLLP (The 40 Year Old Virgin)
This album presents some of the ARC Music tracks used in various films:
PRINCE OF PERSIA - THE SANDS OF TIME:

INDIANA JONES and THE KINGDOM OF THE CRYSTAL SKULL:

EUCD1146 Best of Russian Folks Songs - Balalaika Ensemble Wolga: Uri Balki - 2:54
(also featuring: Maja galobushka)

JAMES BOND - CASINO ROYALE:

EUCD1486 Caribbean Steeldrums - Steelasophical: Linstead Market - 2:55

COP OUT:

EUCD1895 Mexico - Mariachi Azteca: Jarabe tapatio - 2:36
(also featured on SCARY MOVIE III)

WAR:

EUCD1083 Baladi Plus - Hossam Ramzy: Night Foal - 2:26
(sampled for track: Heat)

BURN AFTER READING:

EUCD1877 The Art of the Chinese Harp, Guzheng - Xiao Ying: Moon over Western River - 4:37

THE CONSTANT GARDENER:

EUCD1996 Tribal Dance from East Africa - Bomas of Kenya: Kijana Mwana Mwali - 5:56

THE CALCIUM KID:

EUCD2100 The Dance of Shahrazad - Emad Sayyah: Raksat Al Habhaab - 3:31

TO WALK WITH LIONS:

EUCD1744 The Most Beautiful Songs of Africa - Daniel Owino Misiani & Shirati Luo Voice Jazz: Lala Salama - 5:29

DR. ZHIVAGO:

EUCD2228 The Russian Ensemble Balalaika: Koletchko - 2:55

MUNICH:

EUCD1163 Songs & Dances from Greece - Romiosini: Ela-Ela - 2:14
(also featuring: EUCD1169 Rembetika - Talking to Charos: Palamakia)

GOODBYE LENIN:

EUCD2259 Best of Om Kolthoum & Mohammed Abdul Wahab - Hossam Ramzy: Aziza - 4:53

OPEN WATER:

EUCD1912 Music of the Fiji Islands: Ni sa bula - 3:00

EXORCIST: THE BEGINNING:

EUCD2261 Gypsies of the Nile: Sharetny Oyounha - 4:14

THE 40 YEAR OLD VIRGIN:

EUCD1843 The Japanese Koto - Ayako Hotta-Lister: Midare - 5:06

THE KINGDOM:

EUCD2261 Gypsies of the Nile: La la la omri manhounik - 3:43